Jurgen Klopp requires key characteristics in a player if they are to thrive under his management at Liverpool, and Andy Robertson ticks every box emphatically.
Remember the general air of apathy that greeted the signing of Robertson in July 2017?
A Scottish left-back signed from relegated Hull City—his arrival was never exactly going to lead to supporters bunking off work to celebrate the news.
After taking time to find his feet, with Alberto Moreno preferred until the early part of the winter, the 24-year-old has never looked back.
The Reds' most consistent performer since December, Robertson was one of Europe's most influential full-backs during the Champions League run last season.
Defensively he barely put a foot wrong, while his attacking surges down the left flank played a key role in Sadio Mane being able to shine more centrally, as well as offering his own threat going forward.
In the space of a year, Robertson has gone from being a signing that went largely under the radar to one of the most popular players at the club.
While his footballing ability has indisputably played a major role in this, there is so much more that has afforded him such cult status already.
The Perfect Klopp Player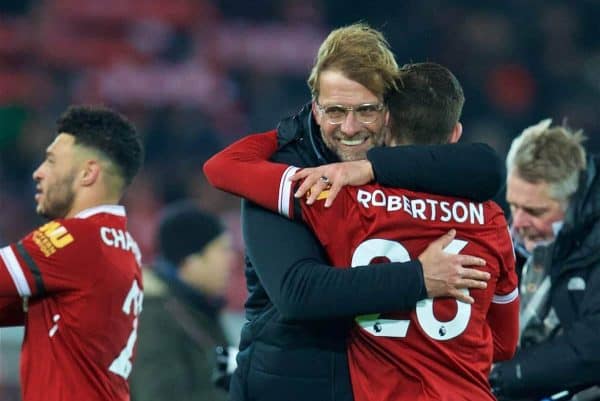 There are clear values that Klopp demands from his players, with their talent as an individual only a portion of what the manager is interested in.
He acquires the services of good human beings with a fantastic work ethic, an understanding of the club they are playing for and a genuine humility.
Robertson, perhaps more than any other signing during Klopp's tenure, feels like the poster boy for the manager's ideal footballer.
A down-to-earth lad from Glasgow, Liverpool's No. 26 remains best friends with his schoolmates and seemingly hasn't allowed fame to affect him one iota.
Off the pitch, Robertson is a hugely likeable individual with personality and warmth, recently highlighted in an amusing video with James Milner, in which they dissected some of the more mundane aspects of life.
The Scot immediately embraced the culture of Liverpool, 'getting' exactly what it means to represent such a great club.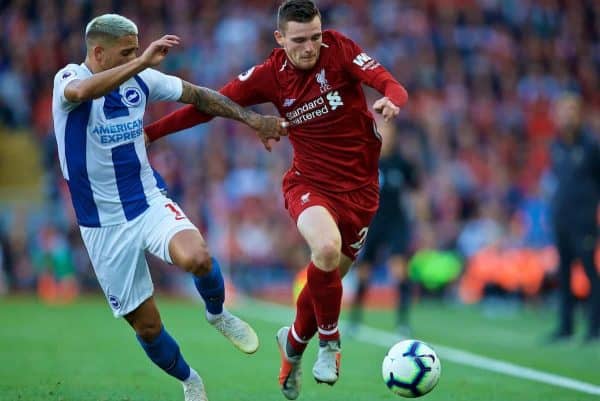 In the fourth and final part of Jeff Goulding's must-read interview with John Barnes, the Reds legend spoke about the characteristics required to succeed at Anfield:
"You couldn't come to Liverpool with a superstar mentality, or believing you were better than anyone else in the team, or in the city. And I liked that.

"I like the fact that people don't look up to you like you're a god. They treat you like a normal person and I like to think that I am a normal person.

"For me, I want a normal life and life in Liverpool and Merseyside is a normal life. I want my children to be brought up in that environment."
That could easily have been Robertson doing the talking, with his level-headed style a big part of why he has become so adored by the masses.
The left-back has also put his fame to excellent use, using it to benefit others and further enhancing his reputation at the same time—not that that is his intention.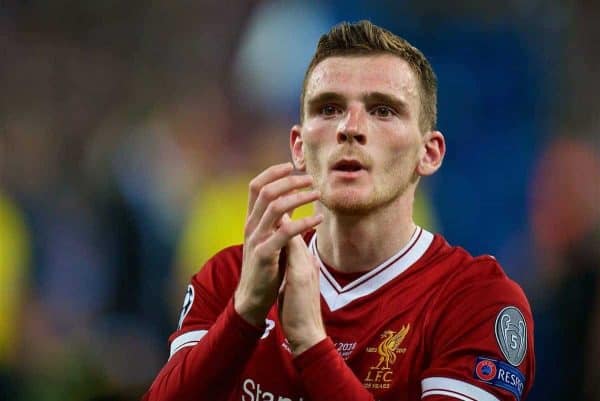 He has donated to local food banks, and gave one food bank-supporting youngster a signed shirt, as a thank you for his contribution.
In typically modest fashion, however, he gave the young fan a Roberto Firmino jersey instead, because "no one wants the left-back's shirt."
Robertson is class personified and he embodies the type of character Klopp has spent his managerial career regularly cultivating.
Assessing the other names who have moved to Anfield since the German arrived on these shores it is clear there is a specific type.
Sadio Mane, Gini Wijnaldum, Alex Oxlade-Chamberlain, Mohamed Salah and Virgil van Dijk are just some of the names who immediately spring to mind.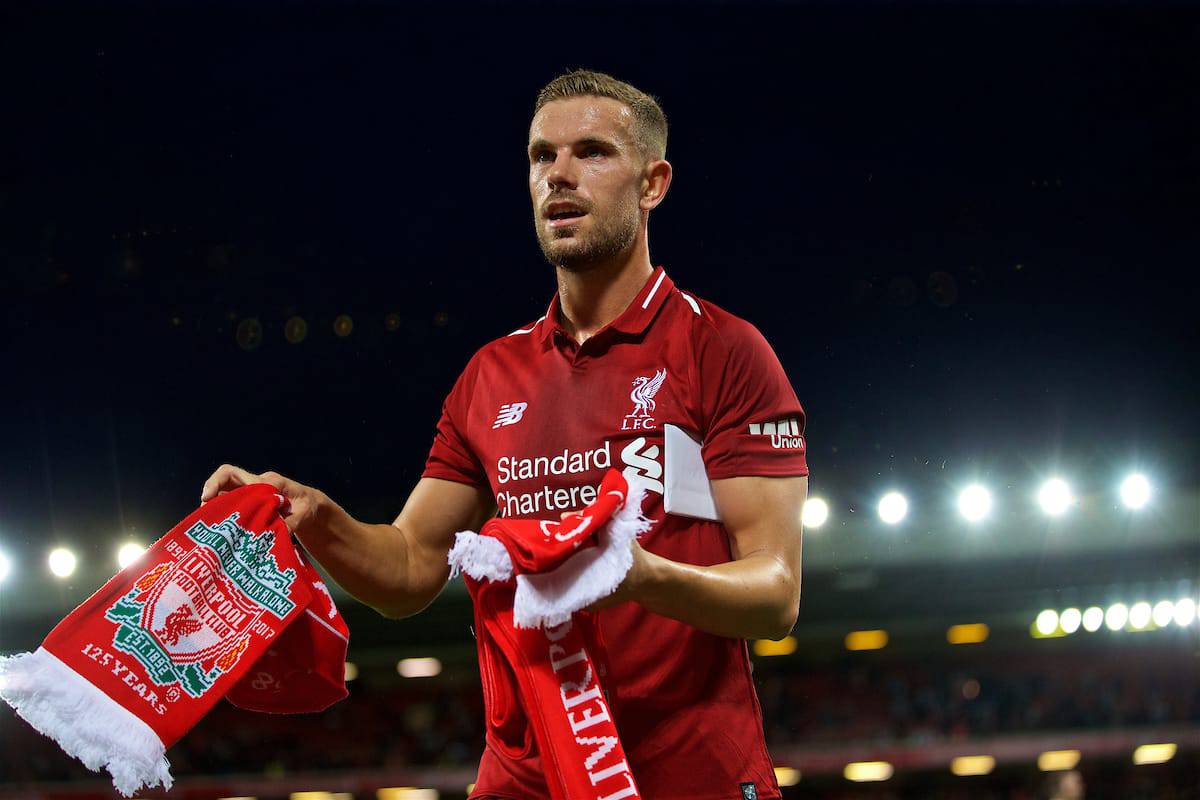 Salah, for example, recently donated a signed shirt to a BOSS Night auction in support of the Sean Cox medical fund, while Jordan Henderson made a similar gesture to Prescot Cables following the tragic death of Reds supporter Jack Riding.
"Jack was just 18 years old and as a parent myself my thoughts are with his mum and dad, and family and friends," the captain wrote in his programme notes last month.
"Their feeling of loss is unimaginable, but I hope they are able to take some comfort from the tributes that have been paid to Jack by the Merseyside football community and the love that has come their way."
Trent Alexander-Arnold, a Scouser born and raised in West Derby, regularly uses his social media accounts to connect with fans, including sending a shirt to young leukaemia sufferer Devon Baker.
Robertson is one of a host of strong characters in Klopp's squad, going to great lengths to absorb himself into the club and making the most out of playing for such a special footballing institution.
Potential Future Captain?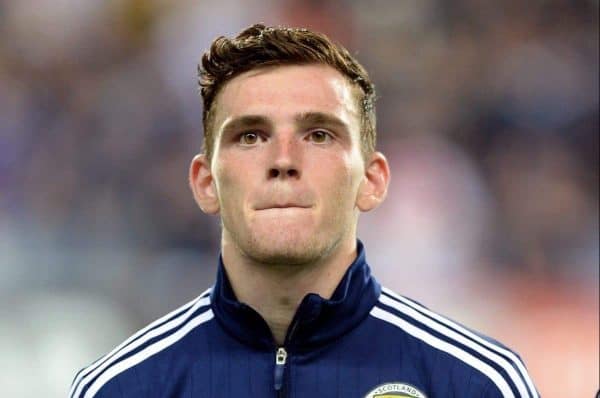 Robertson was announced as Scotland's new permanent captain this month—something he described as "the pinnacle of my career."
It is a richly deserved honour for a player who possesses great leadership skills, from offering encouragement to team-mates to proving a feisty character in the faces of opponents and referees.
Looking ahead, there is no reason why Robertson cannot end up skippering Liverpool one day, once Henderson has moved on from his current duties.
There are strong alternatives in that role, from Van Dijk to Alexander-Arnold, but the Reds favourite has to be considered a front-runner.
It has been a quite remarkable rise for Robertson, who back in 2012 famously took to Twitter to declare: "Life at this age is rubbish with no money #needajob."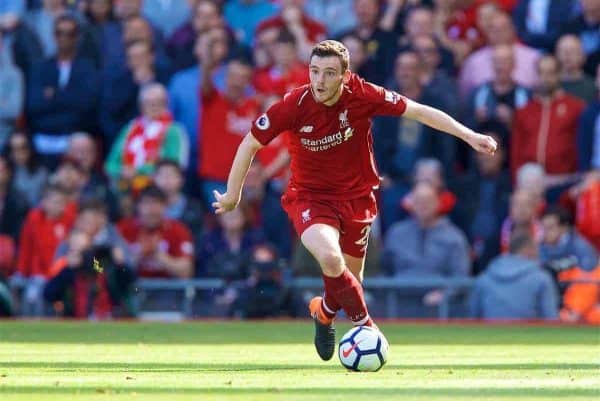 Stints at Queen's Park and Dundee United eventually led to a move south of the border, where he shone for three seasons at Hull.
He caught the eye of Klopp, and despite others turning their nose up at the move, he became the latest top-class Scot to play for Liverpool.
In such a short space of time he has gone from a teenager ruing his financial situation to one of the Reds' key men and his country's skipper.
It couldn't have happened to a more grounded, morally sound individual—and he is only just getting started at Liverpool.