Liverpool have not been short of talent in the years I have supported the club, but who makes the best XI from the talent pool stretching over 17 years?
I've been a Liverpool supporter from the age of seven, meaning any player who donned the shirt between 2002 and 2019 is in the mix for selection.
There has certainly been an abundance of talent walk in and out of the doors at Anfield during that time, but having lived on the other side of the world for the majority of my life my experiences with the club differed year on year, meaning my exposure and vivid memory of players and specific seasons wasn't always the same.
A lot of my decisions rest upon my recollection at the time or who I have been lucky enough to see live since I moved back to England in 2014.
My final selection proved to be a team whose philosophy is about all-out attack in a 4-2-1-3 formation, and I'd be more than willing to see them all turn out together in their prime for the Reds.
Without further ado here is my lifetime Liverpool XI:
Goalkeeper: Alisson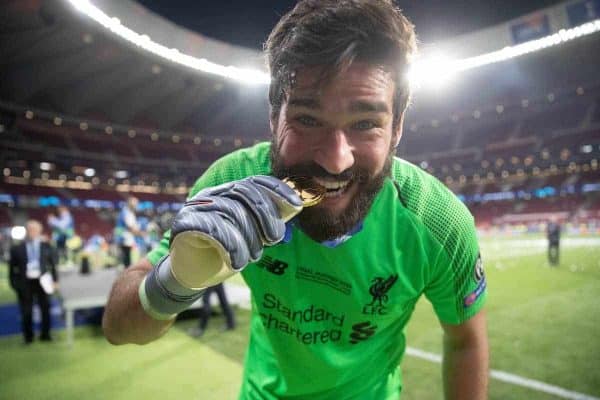 Despite Pepe Reina being a beloved player of mine during his stint at Anfield, the Brazilian pips him to the spot after a stupendous debut season.
One of the first times I saw him live was against Brighton where he did that cheeky flick over Anthony Knockaert and I was immediately in awe although it did elicit groans from some of the older members of the crowd – meaning I was instantly sold, not that I wasn't already.
He's transformed the team and oozes a level of confidence which hadn't been seen in between the sticks at Anfield for far too long. Vital to our recent success and he's bound to only get better.
Right-back: Trent Alexander-Arnold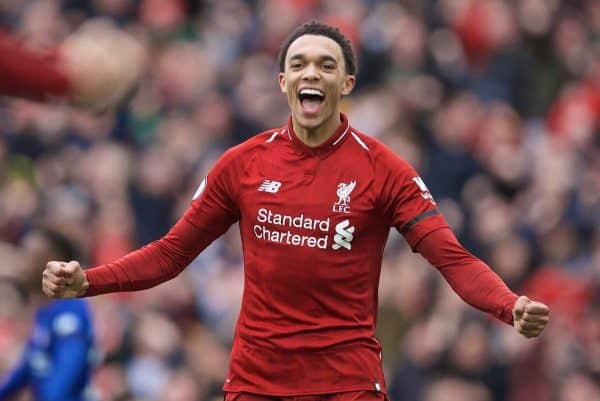 How is he only 20?!
Trent's not the finished product by any means but he has earned my admiration after two Champions League finals, a World Cup campaign and 91 topflight games to his name for Liverpool before his 21st birthday.
A creative outlet with a sumptuous end product and a competitive spirit which is to be admired; a player who is destined for greatness.
Centre-back: Jamie Carragher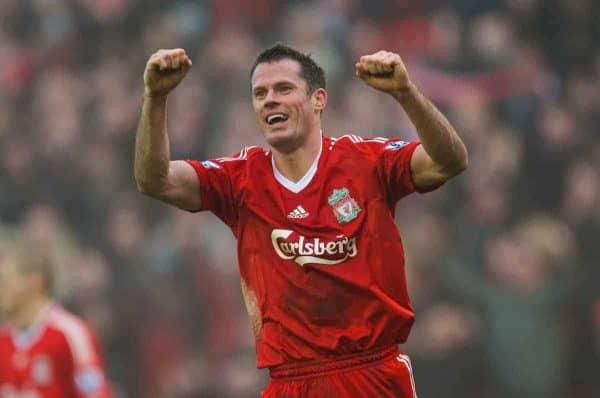 My overriding recollection of Carragher over the years was his courage and inability to step down from a confrontation and it's that aggressiveness which ensures he's lining up as my right-sided centre-back.
Sami Hyypia was of course in consideration but my memory of Carra's playing days are more prominent than that of the Fin after a combined 737 appearances over the course of his 16-year career, 11 years of which I was privy to.
A tenacious character which ultimately proved instrumental to the glory in Istanbul – and oh how I wish his thunderous strike against QPR in his last game rustled the back of the net rather than crashing off the post.
Centre-back: Virgil van Dijk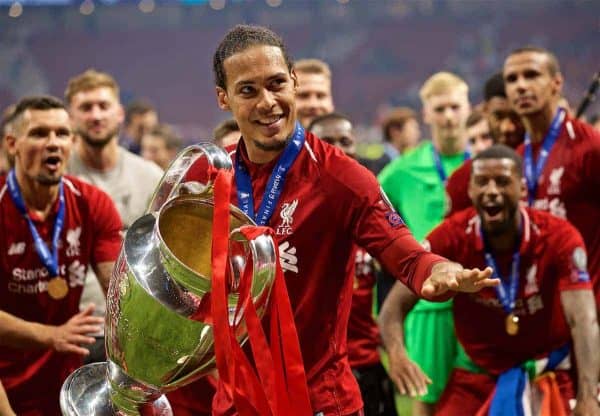 Without a shadow a doubt the greatest centre back to line up for Liverpool in my time watching the Reds, and I wouldn't be surprised if he ends up at the top of the list for those who witnessed the greats before him.
A colossus of a defender who makes marking some of the world's leading forwards look like a walk in the park – with even a touch of annoyance that he's been called into action – such is his calm demeanour, turn of pace, vision and outright talent.
Consistently imperious in defence with the goalscoring threat to match and a key pillar of Jurgen Klopp's side which has seen him rightfully propelled to the leading contender for the Ballon d'Or.
No other centre-back I'd want on patrol.
Left-back: Andy Robertson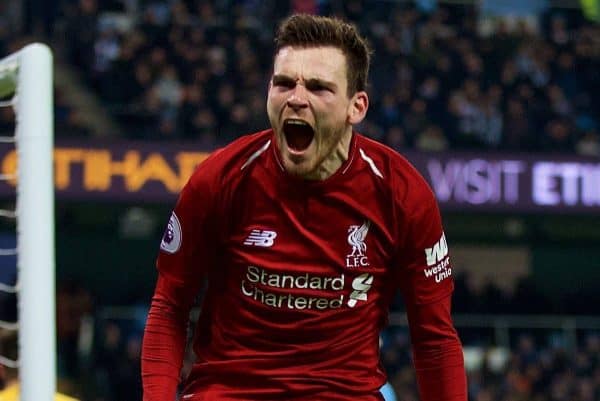 We've had some issues in this position over the years and never did I think an £8 million signing from Hull would be the solution, but never have I been so happy to be wrong.
A player and a man who has taken the club and the city to his heart and it has rightly endeared him to supporters.
A lung-busting one-man press against Man City set the tone for Robbo and not once has he stepped off the accelerator since, a European champion and a player, like Trent, who knows how to operate in space and whip in a perfect delivery with his left peg.
You could say his selection alongside other members of the current sides' defence is a touch of recency bias, but after years of disarray at the back they've all rightfully earned their place.
Defensive midfield: Xabi Alonso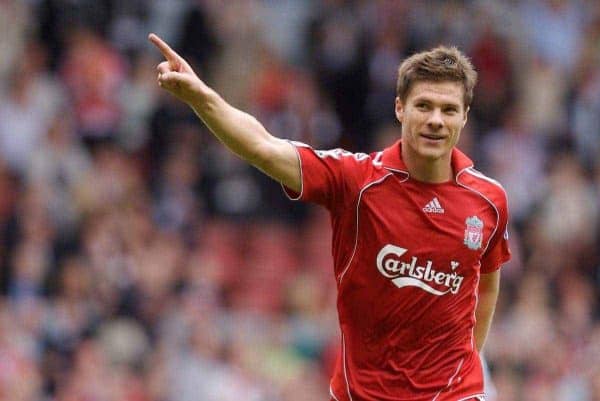 Vision and accuracy.
Those are the words which ring true whenever Alonso comes to mind, the awareness and ability to see the bigger picture and to then to pick out a teammate with a raking pass was something else.
He had a bit of bite to him in the contest which is always a trait to be admired and so it came as no surprise that he easily captured supporters' hearts – and so to see him move on was hard especially after a standout season in 2008/09.
Defensive midfield: Steven Gerrard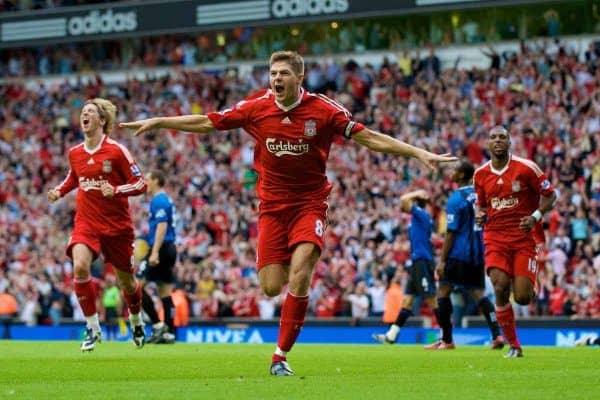 The undisputed first name on the team sheet for the majority, surely!
A fearless leader, the heartbeat of the team, a role model and legend and a generational talent whose limit knew no bounds.
A player who could thrive in any position and as such he will be deployed in the deeper midfield role in this side alongside his Spanish counterpart in order to add a touch of balance behind the forwards ahead of him.
My all-time favourite Liverpool player and a childhood hero who bestowed an abundance of footballing memories I will always cherish, but I am forever indebted to him for making my first visit to Anfield against Fulham in 2012 even more special by finding the net.
Attacking midfield: Roberto Firmino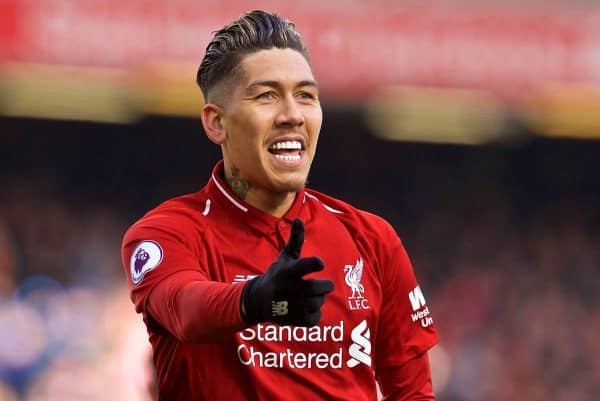 There's no way this man was not getting in my team.
His flexibility and willingness to do the dirty work in transition from attack to defence and vice versa means he will prove to be the perfect link from the midfield to attack.
While his stature in the game is ever increasing, I feel he is still criminally underrated such is the way he makes Klopp's side tick with his movement and game intelligence which don't always tend to grab the headlines.
His role is all-encompassing, his celebrations simply brilliant and his stunning roulette which was played out before my eyes against Villarreal in the Europa League remains on constant replay in my mind – a player like no other.
Forward: Luis Suarez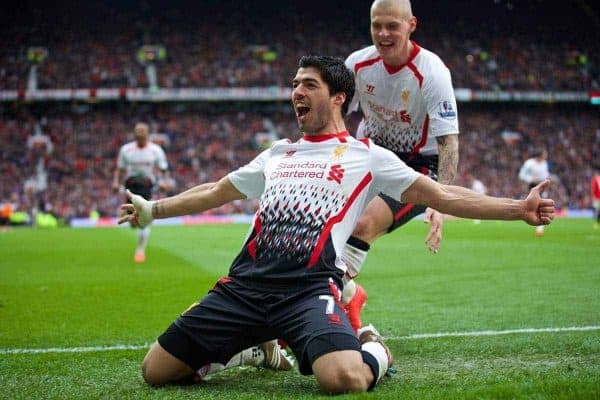 A jaw-dropping footballer who had you constantly on the edge of your seat with his sheer brilliance and genius which struck fear into the opposition – just ask Norwich.
His 31-goal and 19 assist campaign in 2013/14 is one which will live long in my memory and while Liverpool never quite reached the top of the mountain like we looked destined to, this man was pivotal in making it one of the greatest seasons I've experienced as a Red.
Suarez is simply the player you love to have on your side but loathe when a member of the opposition such is his insatiable desire to win.
Forward: Sadio Mane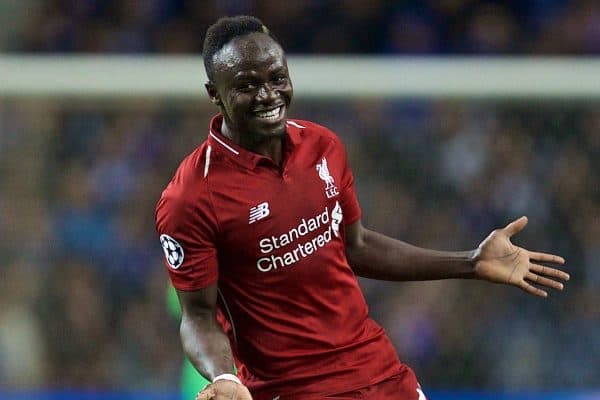 The Senegal speedster has consistently answered all and any questions asked of him in his three-year career at Anfield to date.
His arrival on Merseyside kickstarted Klopp's revolution and having injected much-needed pace into the lineup he simultaneously established a significant new dimension to the team.
Mane continues to grow by leaps and bounds and has proven he is a man for the big moment and while he often battles with Mohamed Salah for the headlines, he's arguably more influential than the Egyptian.
He's simply irreplaceable as a current member of the world's best attack and having briefly met him at Melwood he's a character anyone would want in their sides' dressing room, and I'm more than happy for his smile to grace my team.
Forward: Michael Owen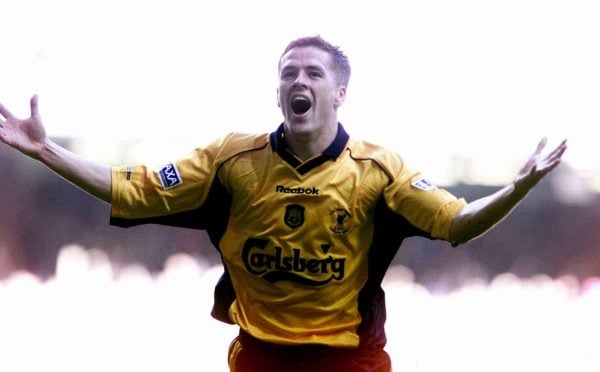 We've been blessed in the forward department, not only in my time as a Liverpool fan, but in the entire history of the club.
And Owen to lead the line, while he still poses as a polarising figure to many, was a non-negotiable for me.
He was one of my first football idols growing up and that DVD of him rinsing a 13-year-old 'keeper at a soccer skill programme I happened to love as a child and I still have it lying around somewhere.
An explosive instinctive forward who found the back of the net with ease, and while injury was to rob him of his greatest asset in pace, there is no questioning that the 2001 Ballon d'Or winner at his peak was unstoppable.
---
My Liverpool Lifetime XIs: Neil Poole, Karl Matchett, Joanna Durkan, James Nalton, Henry Jackson