Ryan Gravenberch has explained the role Dutch teammate Virgil van Dijk and manager Jurgen Klopp played in his decision to join the Reds this summer.
Gravenberch became the fourth and final midfield signing of the window on deadline day in a £38.5 million switch from Bundesliga champions Bayern Munich.
The 21-year-old has made an impressive start to life at Anfield, becoming the club's first player since 2002 – his year of birth – to register a goal involvement in each of his first three starts.
Van Dijk is now his captain at both club and international level, with Gravenberch detailing what the defender told him about Liverpool prior to the transfer.
"I spoke a little bit with Virg and he said 'Liverpool are a top club. You're going to play for sure'," the midfielder told Sky Sports.
"He said things to me and also that gave me a good feeling to come here."
Gravenberch was said to be unhappy with his lack of involvement at Bayern Munich, registering just three Bundesliga starts throughout the whole of 2022/23.
He recently expressed his delight at the "minutes" he has enjoyed since moving to Merseyside, racking up seven appearances since his arrival.
Van Dijk wasn't the only man involved in persuading the midfielder to join the club, with Klopp also credited with having an impact in the process.
"I spoke with the coach and he gave me a good feeling," he continued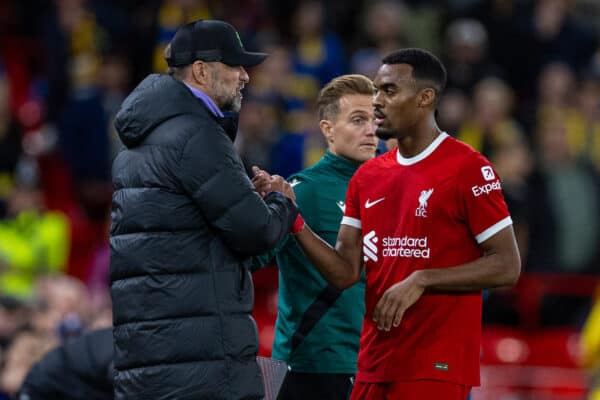 "He said to me 'I want you' and he gave me his plans, he explained everything and he gave me such a good feeling that my decision was a fast one."
Gravenberch was also asked about his reaction to Klopp's chin rub on the touchline against West Ham, with many fans noticing him laughing after the boss' last-minute words of encouragement.
The Dutchman admitted he had seen the "viral" clip and explained how Curtis Jones was the reason for his reaction.
He laughed and said: "I saw it, it went viral!
"He did it but Curtis came to the side and I was laughing to Curtis.
"If you saw the video he did this and then I laughed about that but I was laughing to Curtis, that's why."