In the latest edition of 'My Liverpool Life', Anfield tour guide Danny Dwyer shares his unique tales and stories as a lifelong Red.
I started supporting Liverpool because…
First and foremost because I'm from Liverpool. My grandad and uncles were Liverpool mad and used to tell me stories of the 1960s, 70s, 80s. I'd come into school with fun facts about Roger Hunt for friends who had no idea about such history.
As a really young kid, I had a signed photograph from Michael Owen and I used to love Patrik Berger because I thought his name was funny (mature).
But the most significant moment of when it hit me how much I loved football and this club was the 2001 Worthington Cup final against Birmingham City.
I was taken to the pub by my uncles and the atmosphere was great. It was the first game I witnessed a penalty shoot-out and the first trophy I watched us win. Since that day, I've never missed a game and became completely obsessed.
My first game was…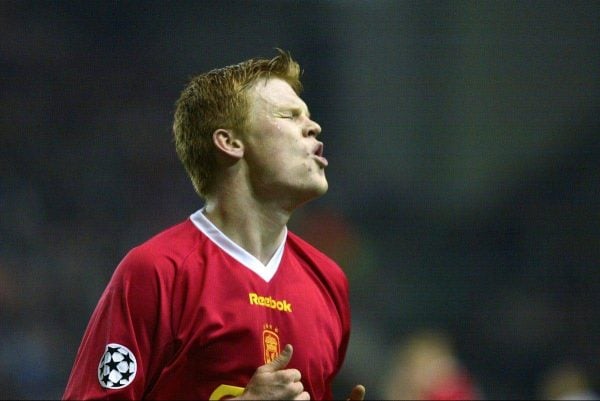 Liverpool vs. Galatasaray in 2002. A Champions League night at Anfield under the lights sitting in the old Paddock.
I went with my uncle, who also struggled for match tickets so this was a real treat for both of us. I was star struck by the whole place. Seeing the players I idolised in the flesh and how green the pitch was, the atmosphere and the whole build-up around the stadium pre-match.
Singing 'You'll Never Walk Alone' with my scarf with thousands of reds for the first time was special, as was buying a badge opposite The Arkles and a programme to learn the opposition player's names.
Unfortunately, the highlight of the game was a shot from Didi Hamann which went about five yards wide in a pretty uneventful 0-0 affair. I was gutted I didn't witness a goal in my first game, but I'll never forget how special it was to be at Anfield for the first time.
My favourite season supporting the Reds was…
This is a hard one. There are a few seasons which stick out, but I'm going to choose the 2017/18 season.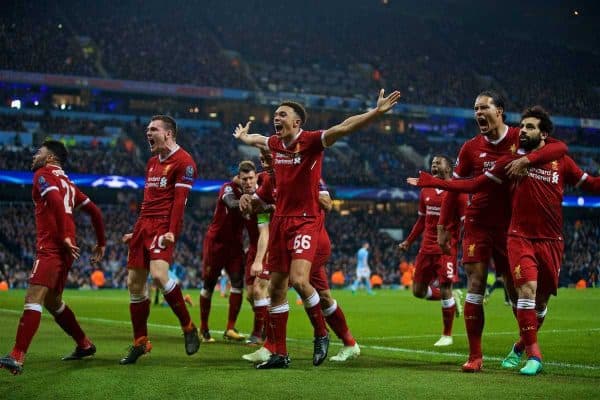 Despite it ending with heartbreak in Kyiv, this was the season when I truly felt something special was happening at our club. Klopp's style of play and team was starting to come to fruition. We were absolutely deadly on the counter-attack and were widely known as the most entertaining team on the planet.
It was the definition of heavy-metal football and getting to a Champions League final confirmed that there was a method to the madness. I felt excited again. I felt as though we could beat any team in the world and compete with the big boys again.
That season for me was so important for the belief and mental strength our squad has today.
Nowadays, I follow the club…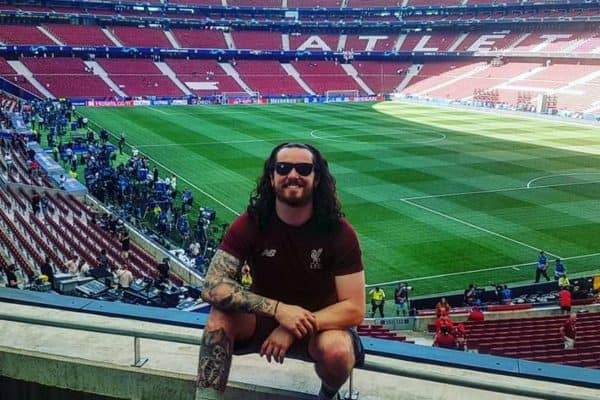 I very, fortunately, manage to get to most home games and a few aways these days. I don't have a season ticket, so I go from week to week hunting down tickets on Facebook groups or any way I can get them. I have a friend who knows people who sometimes have spares too, which I'm extremely grateful for.
I've never had any connections throughout my whole life when it comes to tickets so I've always watched on TV and I know how hard it is to get tickets these days for everyone, so I'm thrilled to be able to go regularly – it's something I never take for granted.
Following the reds abroad is special. I went to the Champions League and Super Cup finals in 2019 and absolutely loved the vibrant energy amongst the travelling Kop. I hope to be back on a plane with fellow reds on our way to another final soon.
Liverpool is a unique club because of…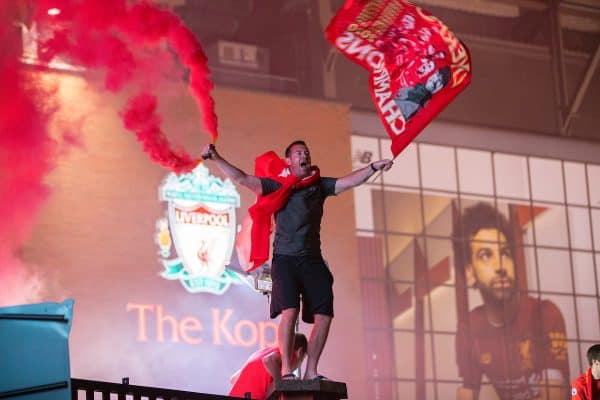 Our supporters. If Liverpool were playing a friendly on the moon our fans would find a way to get there. You've seen the numbers that travel far and wide, even without tickets. It's incredible the commitment and sacrifices Liverpool supporters make to follow their team. Win, lose or draw, our supporters will sing their hearts out.
If a player makes a mistake, we sing his name to give him a lift. Singing YNWA at the end of every game sends out a message that we're all in this together and we're here to stay. There's a lot of truth in the phrase 'This Means More'. This club is our identity, our passion, our hopes, our dreams, our language, our culture, our light in the dark and I will even go as far as saying our reason to breathe.
This club connects people from all over the world and gives us more purpose. We're a family who never quit and continuously make miracles happen. I'm proud to be a Red and proud to be a Scouser.
My best story involving the Reds is…
In December 2018, a few hours after we beat Man United at Anfield leading to Mourinho's sacking, it was the player's Christmas party. I was hired as an actor playing the role of a New York Policeman at their New York themed Christmas do. I was one of four lucky tour guides with an acting background asked to do it. What an absolute honour.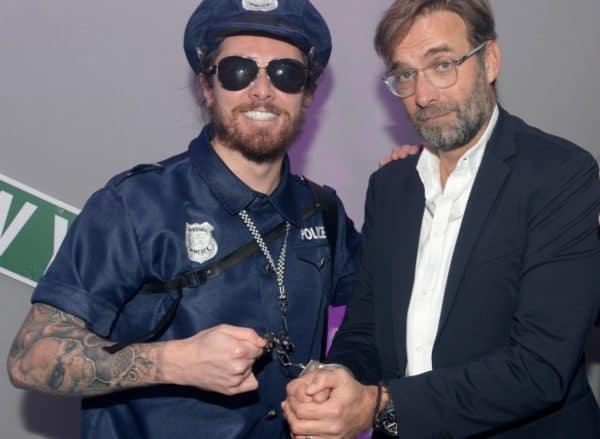 Everybody was in great spirits after our fantastic victory and I was able to see the players close up in a private setting, away from the media. I shook hands with every player and had photos taken with them, but the best part of the night was putting Jurgen in handcuffs. He was up for a laugh and had time for everybody in the room.
The most annoying part for me was having to maintain a New York accent and stay in character when I was surrounded by my idols. I wanted to speak to them normally, but I just couldn't believe my luck that I was amongst it all. I remember seeing Andy Robertson making fun of Adam Lallana for a flat cap he was wearing. Getting a taste of the dynamics in our team and hearing the banter was truly an experience I'll never forget. Hopefully, I can meet them again someday and actually speak to them normally!
I once met…
Working at Anfield means I bump into the likes of Alan Kennedy, Phil Neal, Phil Thompson and Ian Callaghan every once in a while. Having brief casual chats with these legends around the stadium is definitely a huge perk of the job.
As a kid, I would often get the bus to Melwood and wait for autographs and pictures with any players willing to stop and I also attended a football sticker event at Anfield to meet Sami Hyypia, who I had on the back of my kit at the time, so that was an incredible moment for me!
What is life as an Anfield tour guide like and what is your standout moment…
It's a dream come true. I wish my Grandad could see where I was working today, he'd be so proud. Having access to areas like the changing rooms, tunnel and dugout has never sunk in properly. The novelty doesn't wear off.
Meeting supporters from around the world and giving them an experience of a lifetime is magical. It's many people's first time visiting Anfield, so it's important we make sure they get photographs in the key areas, giving them memories to cherish forever. I've witnessed people being proposed to next to the pitch and people crying with overwhelming emotions. I'm so proud to represent the club.
At school, I would get into trouble for talking in class too much (about football), and now I'm paid by Liverpool Football Club to talk about football. I'm so lucky.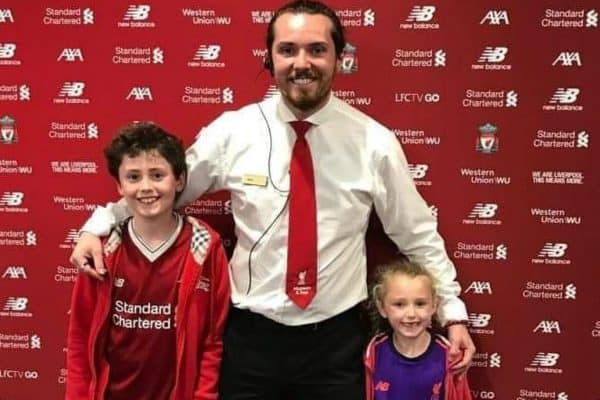 The standout moments for me is seeing how happy you've made people. Making people laugh and telling them interesting facts and stories is a privilege. People asking for photographs with me because I've made their day, and just generally being thankful for the time we've spent together is a level of job satisfaction you don't get anywhere else.
If I could have dinner with three people from Liverpool's history I would choose…
Only three? The table needs to be bigger. Steven Gerrard is and always will be my hero, but I'm going to choose Jurgen Klopp, Bill Shankly and Stan Collymore.
Jurgen because of how down to Earth he is and his sense of humour. He understands the club's values and shares the same beliefs and views on life as the majority of our supporters. I'd never get tired of listening to him. He's so captivating and charismatic. He's the reason why we have smiles on our faces once again.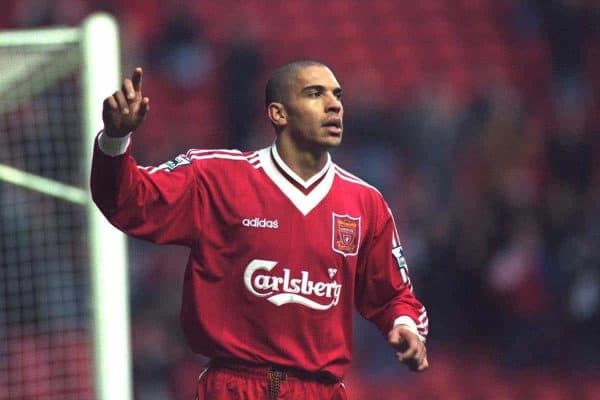 Bill Shankly because I wasn't around to witness his days at the club, but every interview or story I've read about him reflects what a special human being he was. Just like his statue says: "He made the people happy". I watched a documentary on his upbringing in Glenbuck and it'd be amazing to chat with him and hear about his motivation growing up and what made him tick. We owe everything to Bill. He put us on the map. It'd be an honour to share garlic bread with him.
And Collymore might be a surprising choice, but he's had an interesting journey. He was a top player in his day and has had an eventful life and career. I bet he has plenty of stories to tell which would spark engaging conversations with my other two choices.
These days he's an advocate for mental health, which is something I'm hugely passionate about. I follow him on Twitter and he regularly interacts and debates with supporters and people in general. I imagine we'd have plenty of things to talk about and he would add a different dynamic to the dinner table.
---
* Thanks to Danny for sharing his 'Liverpool Life'. You can find Danny on Twitter @decayingcactus.
More 'My Liverpool Life' Stories