The day after Liverpool were beaten 5-2 by Real Madrid in the Champions League, there were developments on the club's sporting director search.
"It's speculation"
Earlier this week, the Athletic's David Ornstein revealed two 'candidates' to replace Liverpool's outgoing sporting director Julian Ward this summer.
One was Monaco's Paul Mitchell, who Ornstein says is likely to stay on in France for the time being, and the other was Eintracht Frankfurt's sporting CEO Markus Krosche.
But if Liverpool are interested in securing Krosche's services, the 42-year-old is yet to find out anything about it.
"No, there was no phone call with Jurgen Klopp," he told SPORT1.
"I don't know where this rumour has come from. It's speculation. You have to ask the person who wrote it.
"I'm here and happy to be at Eintracht Frankfurt. We still have a lot planned and have developed very, very well. There is nothing more to say about it."
Krosche may be oblivious to the reports linking him with a move to Liverpool, but it doesn't mean the Reds aren't interested.
For now, though, there's still no concrete news as to who Ward's replacement will be.
Liverpool and Everton fined by FA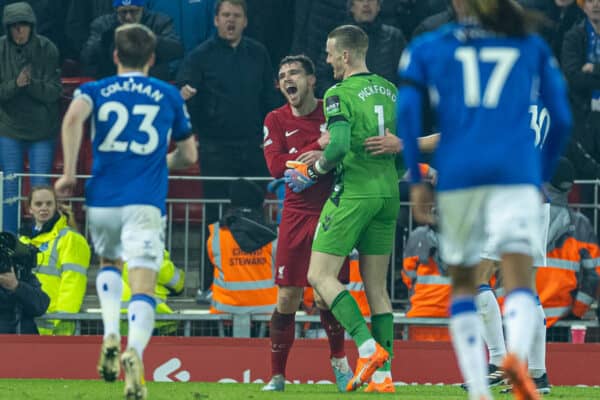 The FA have announced that Liverpool have been fined £25,000 and Everton £40,000 for the "mass confrontation" sparked by Andy Robertson and Jordan Pickford in last week's derby
About last night…

Luka Modric has hailed the Anfield crowd for applauding him and Karim Benzema as they were substituted at Anfield on Tuesday
Stat attack

Video of the day and match of the night
It's a shame it got swept under the carpet in the end, but what an achievement for Mo last night…
If you can bear more footy tonight, Man City take on RB Leipzig in the first leg of their Champions League last 16 encounter this evening, with Inter Milan hosting Porto.
Both games are to kick off at 8pm GMT.
All the best, Reds.