Liverpool will not welcome back any players from injury for their trip to Wolves on Saturday, but Jurgen Klopp did provide some positive news, on a day when the Champions League squad was locked in.
Jota back in training next week
Using Klopp's words from earlier in the season, a witch has been living comfortably at the AXA Training Centre with one injury after another hitting the squad.
Ibrahima Konate is the latest casualty and if his hamstring issue is anything like Virgil van Dijk's, that's at least four weeks on the sidelines.
That's the bad news, though. The more optimistic news is that Diogo Jota is expected to be "back in normal training next week," Klopp confirmed on Friday – hallelujah!
He's still got boxes to tick before his competitive return but it's good news nevertheless having taken part in a "full session with the team this week" alongside his rehab.
The injury situation is "looking better" for Liverpool and here's what the manager had to say on his other absentees:
"Bobby is getting closer"
"Luis [Diaz] is running now. That will take a few weeks still"
"Virgil is getting closer. Parts of training next week, I think"
Things are on the up on this front, let's keep it that way!
Champions League squad confirmed
An intriguing report from Melissa Reddy points to off-field upheaval at the club and "growing friction" among staff that is perhaps translating onto the pitch.
Surprise departure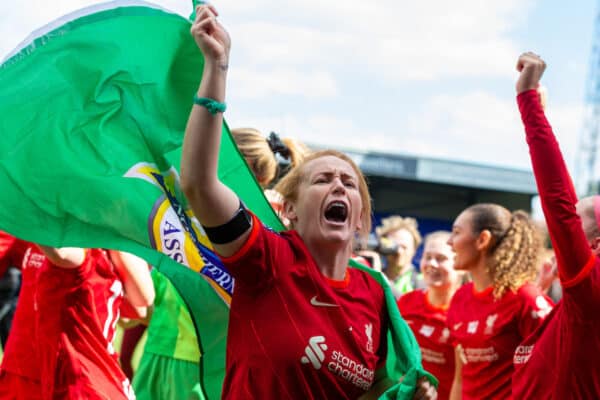 The Liverpool Legends squad for the March clash against Celtic has been boosted by the additions of Jamie Carragher, Jerzy Dudek, Sander Westerveld and Fabio Aurelio. Another great occasion awaits! (LFC)
The club have made a brilliant gesture in support of Bristol Rovers defender Nick Anderton, who is undergoing treatment for a rare form of cancer. Classy stuff, lads!
Liverpool Women have bid farwell to Rachel Furness who has now joined Bristol City, the midfielder's surprise departure comes after 64 appearances and 19 goals. Go well, Rachel (LFC)
Chelsea 'drop' signing, Arsenal hand out new contract

We were all wondering who would be left out of Chelsea's Champions League squad after their signing spree, and it's Pierre-Emerick Aubameyang – he only joined the Blues in the summer!
Man United are to conduct their own internal investigation after his charge of attempted rape was dropped, he will not play or train with the club during this process (MUFC)
Video of the day & match of the night
Take a look at this throwback training footage from Melwood in the 1970s, love it!
Another Premier League match week starts tonight as Chelsea host Fulham, with kickoff at 8pm (UK). A draw would allow Liverpool to move ahead of Fulham should the Reds win tomorrow…
Enjoy your evening and here's hoping for a winning weekend for the Reds!