Thursday provided plenty of Liverpool news as the manager finally discovered his punishment for his post-Tottenham comments about officials last month.
Klopp handed two-match ban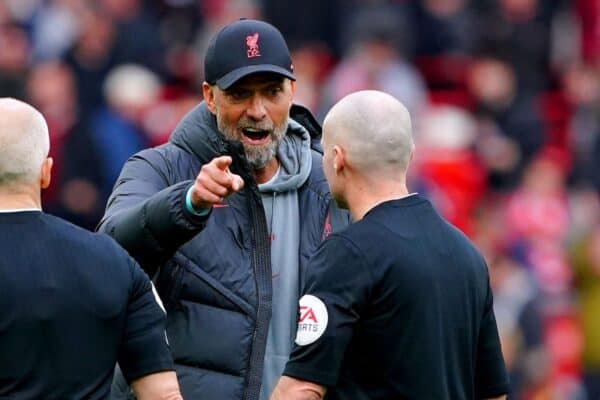 Jurgen Klopp has been given a two-game suspension, along with a £75,000 fine, for his post-match comments following Liverpool's 4-3 win over Tottenham last month.
It means he will be absent from the touchline for the final home game of the season against Aston Villa this weekend, with the second game of the ban suspended until the end of the 2023/24 campaign.
The full transcript of Klopp's conversation with referee Paul Tierney has since been made available to the public in what was the latest in a series of altercations between the pair.
Klopp later apologised for his behaviour on the sidelines in a letter expressing his regret for the manner in which the situation unfolded:
I want to start this submission with the most important sentiment I must express; I am sorry. I am sorry for my reaction in that immediate moment when I ran towards the fourth official, Mr Brooks and I fully accepted a caution was justified. I accepted that then and I accept now that a yellow card was correct.

Equally I am sorry for some of the tone and content of my post-match interview.
Although it was not my intention I accept now it appears that I was questioning Mr
Tierney's integrity. I take ownership of this. On reflection, the words I used were
inappropriate.

Both of these incidents were driven by emotion. I was overly emotional at some of the decisions made, which then led to frustration and a feeling of unfairness. I carried that emotion into the mandated and time sensitive post-match press commitments.

I do ask that you look at the comments I made in the following context; we are, as
Managers, contractually required to make ourselves available in a timely fashion. This doesn't readily allow for a more measured approach. Also, English is not my primary language and at times what I mean to say and how I say it can conflict.

For the avoidance of doubt, I was trying to express how I felt whilst dealing with the
frustration I was feeling around a number of decisions made during the game. It was about feelings and emotions. To be absolutely clear, I know that Mr. Tierney, along with all other officials, do their work without any pre-conceived bias or prejudice.

Although not an excuse, I believe we have made up a high percentage of Mr Tierney's matches this season? Something in the region of 20% of the matches he has officiated have involved my team. I do not offer this as a defence, rather it is an observation and could be a reason for both the build-up of frustration governed by an inadvertent accumulation of incidents over an extended period.

Hopefully you saw in my very next press conference (Tuesday 2nd May, 2023) I sought to clarify and correct any wrong conclusions drawn from the words I used in the interview on Sky Sports, which took place matter minutes after a tumultuous and highly dramatic game ended."
Aston Villa's visit will be the second occasion Klopp has been forced to watch on away from the dugout having received similar punishment ahead of the victory over Southampton back in November.
The manager will be allowed to come onto the field of play after the final whistle as he bids an Anfield farewell to at least four of his senior players who will depart the club on free transfers this summer.
Trent's contract & Henderson's "challenge"

Klopp attempted to keep James Milner at the club in a coaching capacity prior to the midfielder's decision to leave the club at the end of the season
Aston Villa build-up

Liverpool will wear their new home kit for the first time during the final home match of the season this weekend
Andy Robertson has expressed his 'happiness' with the new role he has undertaken since Liverpool's slight system switch
What else has been going on?

The FA will block any attempts from Ivan Toney to "get around" his eight-month football ban by moving overseas (BBC)
Video of the day and match of the night
Check out this heart-warming clip with Milner ahead of his Anfield farewell this weekend as he speaks to lifelong Red Fran Murt, who was diagnosed with dementia in 2021.
There is a great choice of football both domestically and in Europe this evening, but from a Liverpool perspective, there is only one game to tune into.
Brighton travel to Newcastle for a 7.30pm (BST) kickoff on Sky Sports Main Event, with any dropped points from the hosts potentially leaving the top four door open for the Reds heading into the weekend.
Come on you Seagulls!
LFC reveal new training capsule collection

Liverpool FC recently unveiled their new 1970s inspired kit for next season, which is available to purchase from the official online LFC Store here.
Alongside the home kit is the new training capsule collection, which is out today. Standout pieces include a classic LFC x Nike branded club crew sweatshirt in bright Liverpool red and home Anthem Jacket as seen on Jürgen Klopp above.
* See the full new Liverpool FC training capsule range and order here.